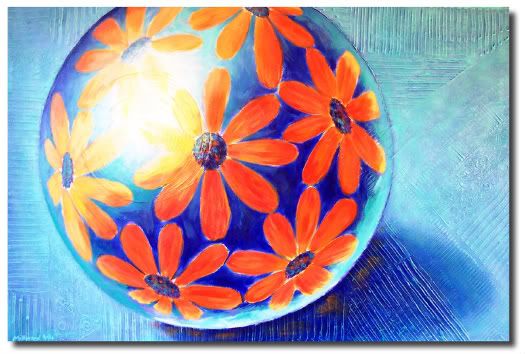 "Orange Daisy Sphere"
2006
ACRYLIC ON HUGE 24" X 36" X 3/4" GALLERY STRETCHED CANVAS
Unframed, sides painted black, hanging hardware installed, ready to hang.
$1200
$50 US shipping
via USPS Priority Mail, delivered to your door within a week.
($100 International shipping, delivery times vary)



I love this painting!...contemporary fun! ...flowers are always a favorite of mine to paint... and i like the neat 3-D effect of these big daisies on this giant sphere ...could be a marble? or even a beach ball!... perfect for the beach house! ...game room! ...any room!... it currently hangs in my own home office and it's bright cheerful colors look great in there.....it was painted using many layers of beautiful glazed colors... this painting also looks great from far away or up close ...as the viewer gets closer to the painting they are rewarded with interesting bold textures as well as subtle, unique filigree texture details ... i enjoy this painting so much, it will be hard to let it go someday...but i know when it finds it's new home, it will be making someone else happy too.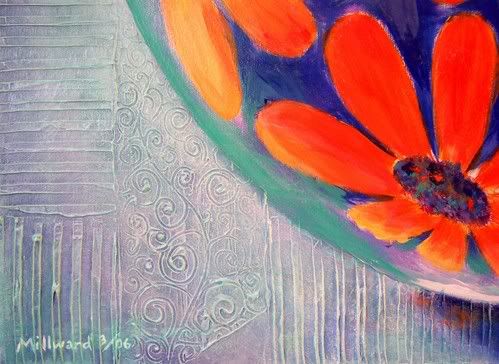 Cropped detail of
"Orange Daisy Sphere"
showing some of the filigree texture found throughout the painting.